The new SAS: Who Dares Wins DS Line-up has been revealed!
Two former USA Special Forces soldiers will join Billy Billingham and Jason Fox.
Former Recon Marine Rudy Reyes joins the show as the new Chief Instructor. Former US Navy SEAL – Remi Adeleke joins as a new DS.
Rudy and Remi will join Foxy and Billy to form the new Elite SAS: Who Dares Wins DS team.
The series will return to Channel 4 in 2022. The new civilian and Celebrity SAS Who Dares Wins series will be filmed in a secret military base in Jordan.
Further cementing the "special relationship" between the UK and USA, the new Directing Staff band of brothers will join forces to draw on their military experiences from both sides of the Atlantic to create the toughest and most demanding selection course yet.
Testing mental and physical ability in Jordan's unforgiving Middle Eastern heat, the new cohort of civilian and celebrity recruits will discover whether they have what it takes to pass this unique SAS selection course.
Who is the new SAS Who Dares Wins Chief Instructor and DS?
The New SAS: Who Dares Wins Chief Instructor is Rudy Reyes.
A highly decorated Special Forces operator with multiple military awards to his name. Rudy joined the United States Marine Corps and was selected for Marine Recon training – an elite fighting force of only 300 troops.
He was a team leader for over 50 patrols behind enemy lines, being honoured as team leader of the year when he led operations in Fallujah and Ramadi, Iraq. Rudy was a member of the lead combat force that entered both Afghanistan and Iraq. Furthermore, Rudy's unit was depicted in the book and HBO miniseries Generation Kill, in which he played himself.
New DS Remi Adeleke is a former Navy SEAL born in West Africa and raised in New York City. He joined the Navy in 2002 and later the elite Navy SEAL programme, serving for 13 years on active duty.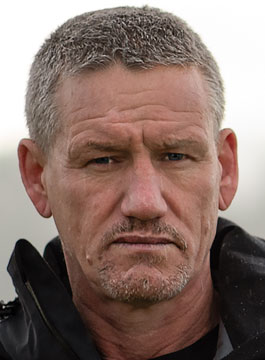 Commenting on the new DS, Billy said: "After 20+ years of collaboration, from a young paratrooper working with an 82nd Airborne to smashing targets side by side with Delta Force. It's great to reconnect our bond across the pond."
Billy Billingham MBE is exclusively represented by Gordon Poole Agency Ltd.