Have you been tasked with booking a speaker for your company virtual meeting?
Do you need some virtual team motivation?
Well, the good news is, there are plenty of great speakers for us to suggest for your meeting.
Since March 2020, many professional speakers have been on a fast learning curve. Those who talk about 'change' have really had to practice what they preach by adapting to online presenting.
Conference speakers have had to adapt from reading the expressions on the faces of a group of delegates and feeding off the buzz in the room, to recreating similar energy and audience engagement remotely.
Our speakers are now 'on fire' with their virtual conference presentations.
Whether a live broadcast on Zoom, WebEx or Microsoft Teams at your pre-determined time, or a pre-recorded speech for you to play at a time to suit, the motivation and energy are still there!
Although you no longer need to think about booking a venue, caterers, accommodation and travel, there are still a few things for you to bear in mind, such as:
Speaker budget.
Speech length and content.
Speech time, especially if delegates from overseas are joining.
Your preferred virtual platform.
We've picked up a number of top tips to help achieve the perfect virtual speech from professional speakers, bookers, AV companies and event organisers.
They include online presenting tips through to the best software and hardware to guarantee a better presentation.
Without boring you with a very long tech list, here are our Top 10 Virtual Event Speakers Tips, which you can use when delivering a virtual presentation, such as a pitch or a monthly update to your team, or for you to discuss with your next keynote speaker.
1. Stand-up when Speaking.
If you can, please stand. If you are presenting a keynote speech or delivering an important message to your team, standing will make you feel like you are actually presenting on stage in front of an audience.
Try not to sit, and don't treat it like any other online call – it's not a catch-up Zoom call with your bestie.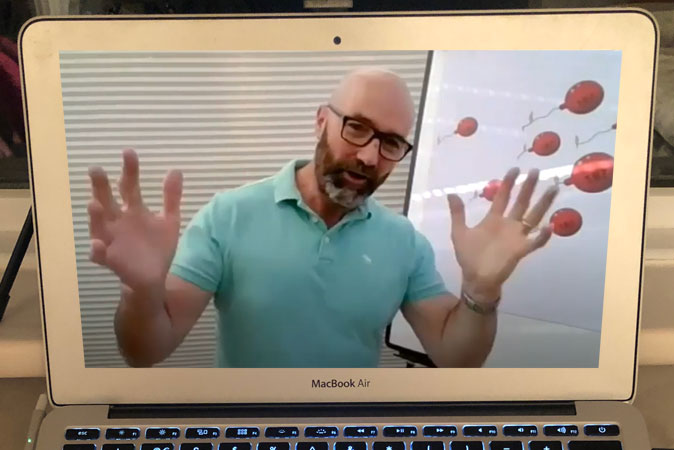 2. Invest in a Webcam.
Whilst many laptops feature good built-in cameras, separate webcams such as the Logitech range offer superior imaging with extra features.
If you can get your hands on a Logitech webcam or similar, (webcams flew off the shelves during lockdown) they can help you achieve Ultra HD, digital zoom, high frame rates and superb low-light performance.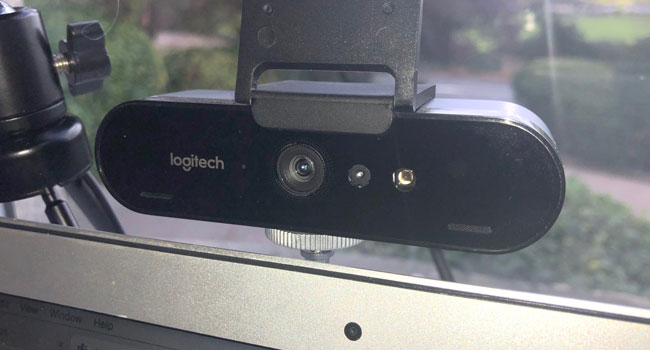 3. Invest in a Microphone.
Once again, whilst the built-in mic on your laptop will suffice, it can struggle to pick up your voice if you move away from the laptop or move around when speaking.
We recommend investing in a high-quality lapel mic or a Blue Yeti, which is referred to as the World's #1 USB Mic – and surprisingly inexpensive.

4. Camera at Shoulder & Head Height
How many times have you taken part in an online meeting and found yourself looking up the nose of the person speaking on screen? It's not a good look.
You've probably heard this before, but please make sure your camera is at the same level as your head and shoulders. This is easily achieved by placing your camera on a pile of books, or a box.
If you are standing, (you know we love speakers who stand) place your camera on a stepladder or a tripod to achieve the correct height.
5. Lighting
Now, this can get very technical. You need to have the light source in front of you and ideally behind (or to the sides) of the camera.
A good option is to place your camera/laptop in front of a window; however, please bear in mind the weather conditions in your country as this can drastically affect the lighting. The perfect natural light coming through the window on a lovely sunny morning can change quickly, especially in the winter. What may look great at 10am, can look considerably different for an online meeting at 4pm.
Ring lights are a good investment, however, if you are wearing spectacles you may get a reflection of the lighting ring on your glasses if the lights are not placed correctly.
If you decide to use regular home lighting, such as table lamps, please bear in mind that some LED bulbs can cause 'flicker' on your camera.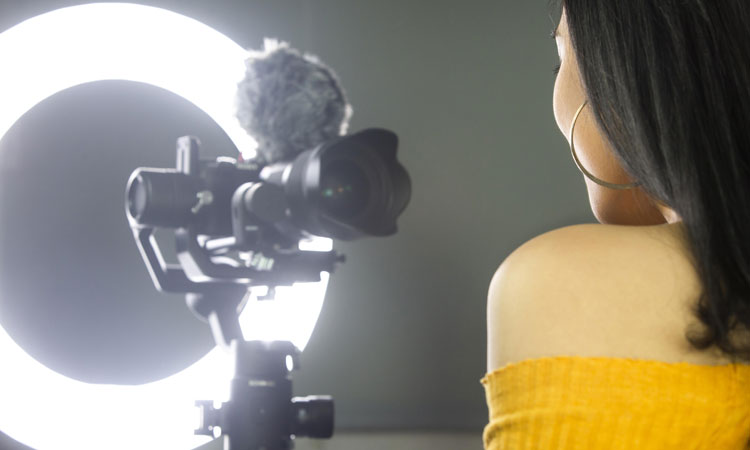 6. Personal Branding
Don't drop your guard. Would you walk on stage at a conference without combing your hair (or moisturising your scalp for the follically challenged), ironing your clothes or applying make-up? On that note, have you checked out War Paint for Men?
You are still on-stage, albeit your living room or office. Please make the effort to look the part. I'm not talking cocktail dress or bow tie, just keep it smart casual. It's time to lose the shorts.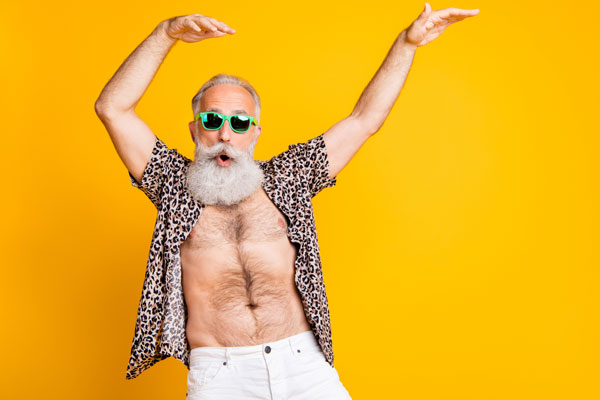 7. Broadband
If you are presenting from home, we recommend hard-wiring your PC, laptop or Mac to your broadband router. For the minimal price of an Ethernet cable, it's a great back up, just in case your Wi-Fi decides to dropout mid-presentation.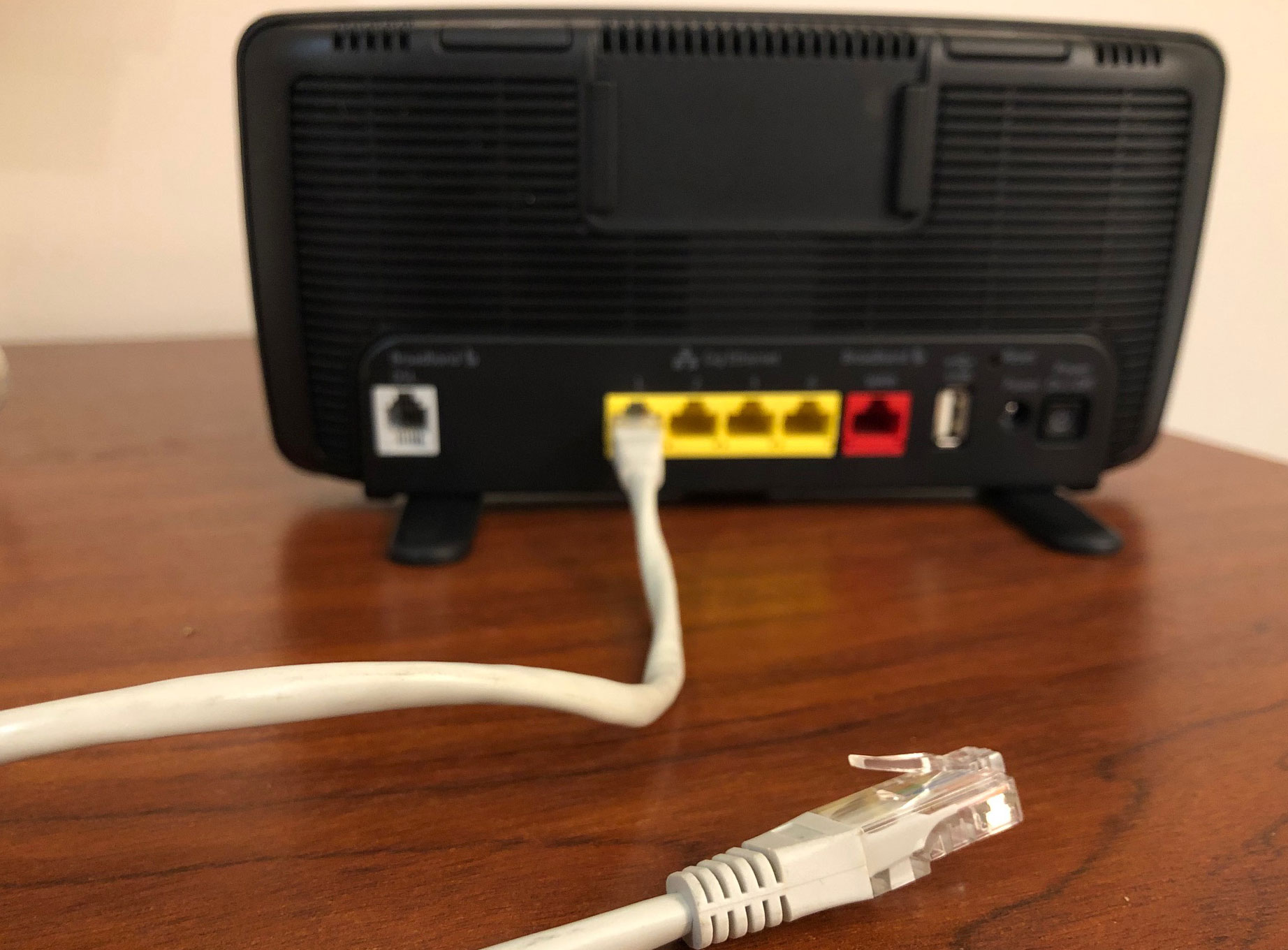 If you are a serious live streamer or running a very important event, check out LiveU. It bonds your broadband and multiple cellular signals to transmit a reliable stronger signal.
8. Your Environment
No, I'm not talking about the ozone layer, I'm referring to the room in which you are presenting. Make it simple, if you have a white/grey wall with a shelving unit featuring just a few books – great.
Don't think about it too much – just try to keep the background as plain as possible – and keep it tidy – your viewers don't want to see your underwear hanging out of the laundry basket!
Try to avoid having family photos, or too many personal items behind you. Remember, glass photo frames may reflect your lighting.
Don't allow your audience to be distracted by what is behind you. You are what they should be looking at.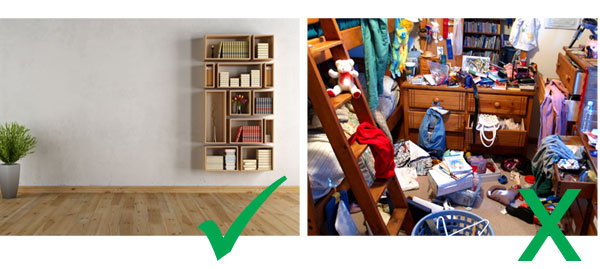 9. Family, Pets and Deliveries
This is probably obvious, but if you are broadcasting from home, let your family members, partners or flatmates know you are presenting. If you can close the door on your 'presenting room' please do, and place a note on the door – i.e. 'ON AIR – DO NOT ENTER'.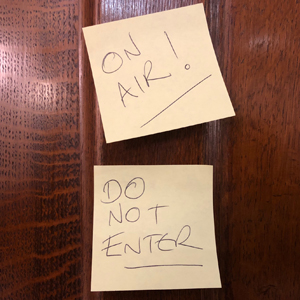 Do the same on your front door. You don't want a delivery driver leaning on your doorbell for 5 mins just whilst you are mid-speech. A simple note, placed eye-level, does the trick, i.e. 'Please do not ring the bell or knock the door – I'm in a meeting. Leave the parcel in the porch. Thank you'.
Silencing your pet. Well, this is dependent on the temperament of your pet and only you know what works best. With the main culprits of speech invasion, being dogs, unless a family member can take the dog out for a walk during your presentation, your best bet is to lock your beloved pet in a suitable room and cross your fingers!
10. Turn Off Notifications
And finally, remember to set your phone to Airplane Mode and turn off the notifications on your pc, mac or laptop, such as email programs and social media alerts. If you have a landline phone – unplug it!

There are so many more tips, such as using slides, having a multi-camera set-up, using a Stream Deck to switch scenes, launch media, adjust audio and more, however, our 10 tips will be enough to help you or your next keynote speaker deliver a great virtual presentation.