For over 55 years the Gordon Poole Agency has been supplying Celebrity Entertainers, Keynote Speakers and Guest Speakers to International Organisations, Media Corporations, PR Companies and to thousands of private individuals around the world.
We also exclusively represent many internationally renowned speakers, presenters and celebrities.
Chairman Gordon Poole is one of the country's most respected agents. In March 2005, Gordon was elected President of the Agents' Association of Great Britain, which is the largest professional trade organisation of its kind in the world.
Managing Director James Poole has worked in the entertainment industry for over 25 years and has worked at GPA as an agent since 1993.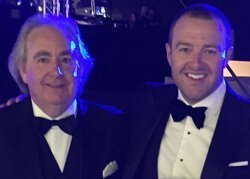 Both Gordon and James have extensive experience and knowledge in supplying talent and negotiating contracts for conferences, brand partnerships, personal appearances, broadcast and publishing.
A family business, the Gordon Poole Agency prides itself on having a reputation of delivering a reliable, personal and efficient service offering both the talent and booker a hassle-free experience.
From Black & White TV through to the world of Digital:
When you contact GPA, you will be speaking with an agent who knows the industry inside out.
With a combined experience of over 100 years, our agents have negotiated contracts for artistes ranging from Diana Dors through to Steve Wozniak, from Status Quo through to Girls Aloud, from Bobby Moore through to Sir Chris Hoy and from Bob Monkhouse through to Michael McIntyre.
For over 55 years, we have worked closely with some of the biggest names in entertainment, business, sport, politics and broadcast.
We supplied talent for T.V. adverts when television was transmitted in black & white (and there were only two channels!) through to contracting celebrities as influencers to take part in social media campaigns.
To be honest, there isn't much we haven't done within the entertainment industry!
View a few of our Celebrity Testimonials from some household names.
CONFERENCE & AWARD CEREMONIES:
Whether your event is in the U.K. or overseas, we can supply leading Keynote Business Speakers, Presenters/Hosts, Entertaining Celebrity Guest Speakers and After-Dinner entertainment to add to the success of your event.  We have one of Europe's most extensive portfolio of speakers – an array of speakers from the world of Business, Sport, Comedy, Exploration & Politics.
MOTIVATIONAL SPEAKERS AND BUSINESS SPEAKERS:-
Motivational Speakers are an asset to any business dinner, event, or conference, and a great way to empower your delegates. Whether you're looking to inspire, encourage or equip your professional and personal environment, we are confident you'll find a suitable speaker here.
AFTER-DINNER SPEAKERS AND COMEDIANS:-
A good After-Dinner Speaker is the surest way to ensure your guests are satisfied with your event and are left talking about it long after it ends. The quality of the speaker you book can make or break your event, and it can be challenging to find the right person to deliver what your delegates want. Let us suggest the U.K.'s best speakers for your event.
BROADCAST:-
We represent and supply talent for T.V. shows around the world. Many production companies contact us for talent suggestions for entertainment, reality and factual productions. Recent shows we have worked with range from 'Have I Got News For You' through to 'Piers Morgan's Life Stories' and from 'The Apprentice' through to 'SAS: Who Dares Wins'.
PRINT:-
Over the past two decades, we have negotiated literary contracts for several best-selling books, including the international hit 'How To Build a Car' by Adrian Newey. We also supply celebrities and talent to write articles for newspapers and magazines.
BRAND PARTNERSHIPS:-
Since 1963, we've supplied celebrity faces to endorse an array of products ranging from aftershave through to clothing and from handheld technology through to motor vehicles. We have worked on projects ranging from significant advertising stunts though to point of sale marketing. Whether it's a Brand Ambassador for a 12-month contract or a celebrity influencer for a 1-month social media campaign, we can suggest the talent to fit your brand or product.
Clients include:
BBC, ITV, Channel 4, MTV, VH1, The Discovery Channel, P&O, Ernst & Young, Harrods, Selfridges, Virgin, B.P., BMW, Coca-Cola, KPMG, IOD, AstraZeneca, Next, MAN ERF, Britannia, Lloyds TSB, Grant Thornton, Alba Plc, Marks & Spencer, Pepsi, DTI, Norwich Union, Bayer, Bombardier, Mercedes Benz, Bacardi, Disney, Chrysalis, RBS, Pricewaterhouse Coopers, Rolls-Royce, Clear Channel, Business Link, English Heritage, Marriott, NHS, Cliveden, Clarks, B.T., NatWest, BUPA, Transco, AGFA, John Lewis Partnership, Unilever, British Gas, Morgan Stanley, JP Morgan, Buena Vista, Toyota, plus many more…