Mark Foster burst onto the International swimming scene at the age of 16, representing England at the 1986 Commonwealth Games.
We're here to help,

so please contact us with any questions...
He represented his country more times than any other male swimmer.
Throughout his impressive three decade career, Mark Foster has won 47 international medals; competed in 5 Olympics, been 8 times Commonwealth champion, 11 times European champion and 8 times World record holder.
Mark was selected to lead out Team GB at the opening ceremony of the Beijing Olympics.
Out of the pool, Mark has become a familiar face on television, including appearances on ITV1's 'Beat the Stars', Five's 'Superstars' and most famously hitting the dance floor in 2009's 'Strictly Come Dancing' on BBC1.
Since retiring from swimming, Mark has become a familiar face on television and his award winning partnership with Clare Balding from the aquatics centre during the Olympics in 2012, made him a household name.
Mark has also co-hosted the BBC coverage of the World Swimming Championships from Barcelona with Gabby Logan.
More recently, Mark formed yet another popular media partnership commentating from the pool at the Rio Olympics with Rebecca Adlington and Helen Skelton.
A long-term brand ambassador for "Wellman" nutritional products, Mark is passionate about fitness and promoting healthy lifestyles.
Mark is also a regular blogger for the Huffington Post on current sporting and lifestyle issues.
Mark Foster – Motivational Speaking: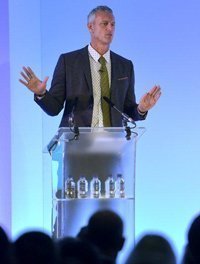 Mark's post swimming career has seen him reinvent himself as a successful motivational speaker and is now one of the most popular speakers on the circuit.
His ability to talk to a variety of audiences about a wide range of subjects, makes him a highly sought after guest speaker.
Competing for 23 years at the highest level of his sport has taught Mark many invaluable lessons about how to build and maintain a successful career.
He has translated these lessons into motivational talks and interventions that are transferable to the business management environment.
Speaking Topics:
Discipline and Training
Mindset and being prepared
Partnerships and Team work; strengths and weaknesses in the team environment
Peak performance
Goal setting and delivery
Learning from mistakes and dealing with setbacks
Working outside you comfort zone
An insight into the World's biggest Sporting event – The Olympic Games
Partnerships and team work – recognising that you can't do it alone and nurturing strengths and weaknesses in a team environment.