Alastair Humphreys is an adventurer, author, motivational speaker, film maker and photographer.
Can't find what
you're looking for?
In 2001, aged 24, Alastair set-off from England to cycle round the planet. After 4 years, 5 continents, 50 countries and 46,000 miles he returned
He completed his feat alone, on a bicycle, no buses, no hitching and no support vehicles.
Alastair Humphreys' route round-the-world was England to Istanbul, Turkey and through the Middle East to Egypt, Cairo to Cape Town, Sailing across the Atlantic Ocean and then the long haul from Ushuaia, Patagonia all the way up to Prudhoe Bay on the Arctic Ocean in Alaska. Asia was the final hurdle: beginning in Magadan, Russia, through Siberia, Japan, China, Central Asia, Iran and finishing with a quick dash back home across Europe.
Motivational Speaker: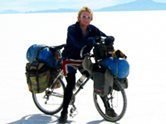 Alastair is a very popular speaker who shares his experiences through a presentation crammed with adventure and stories relevant to everyone – male, female, young or old.
The lessons he learnt about himself in the world's wild places are accompanied by striking photography and eloquenced humour.
His talks to audiences as diverse as Google management and Special Forces soldiers are inspiring, funny and challenging.
His expeditions provide a spectacular, original case study of self-motivation, setting small targets to achieve outrageous goals, the rewards of risk and teamwork, the power of story-telling, overcoming difficult times and self-doubt, the magnificence of our world, and a call to arms that nothing is achieved without being bold enough to begin it.
The Lessons from the Road:
His presentations focus on honesty, passion, determination, humility, risk-taking, persistence, tolerance, motivation, organization, flexibility, goal-setting and performing under extreme pressures which are all equally relevant in any highly competitive career.  Alastair Humphreys has spoken for many companies including: Mars, Capstone, Cap Gemini and Zurich
Other adventures and expeditions Alastair has undertaken include:
Rowing the Atlantic
Walking Through India
Crossing Iceland
Marathon Des Sables
A Year of Microadventures
Canoeing the Yukon
In 2013, Alastair was named as one of National Geographic Adventurer of the Year.
Microadventures:
As well as the major adventures, Alastair's award-winning concept of microadventures – short, adventurous journeys close to home – encourage people to take practical steps to challenge themselves by undertaking adventures of their own and improving their physical health, mental well-being, and all-important work/life balance. 5 to 9 Thinking is an idea that applies to much more than just adventure…
His inspiring message, light-hearted yet compelling, reminds people what "difficult" really means and that we are all able to achieve great things.
Over 2000 people have raced yachts round the globe
Over 1300 have scaled Everest
Over 450 have been into space
Over 180 have walked to the South Pole
Over 150 have rowed the Atlantic
Looking for something original… book Alastair Humphreys!