Debra Searle MVO MBE is an Inspirational Solo Atlantic Rower, Adventurer and Motivational Speaker
CAN'T FIND WHAT
YOU'RE LOOKING FOR?
Debra has achieved more than most people would dream of achieving in a lifetime… She has a first class honours degree, Medals at World Championship level with the Great Britain Dragon Boat Team, Entrepreneurial success with the launch of two limited companies, had her first book published, successfully rowed solo across the Atlantic Ocean, for which she received an MBE from the Queen and has sailed the Southern Ocean.. to name but a few!
The Early Years:
Debra Searle, one of an identical twin, was born in Plymouth on 8 July, 1975. Debra grew up in Devon and attended Hazeldown Primary School followed by Stover School on the foothills of Dartmoor National Park.
After school Debra's love of children and the outdoors led to her choosing to study a BEd in Physical Education and Art, majoring in Outdoor Education. She graduated in 1997 with a first class honors degree and was awarded an honorary Masters from DeMontfort University.
Debra Searle started her career teaching physical education and outdoor education at St Margaret's School in Exeter, Devon and then later at Claremont Fan Court School, Esher, Surrey.
Aged 24, Debra turned her attention to setting up an Internet based art company. She formed The Well Hung Art Company in 1999, specialising in Corporate Art Consultancy and promoting the work of lesser known artists via the internet. She finally sold this company in 2004 when her childhood dream of becoming a full time adventurer became a reality.
Debra Searle's passion for adventure and the outdoors was kindled during her days at Stover School. Superbly positioned on the edge of Dartmoor, Debra spent most weekends hill walking on the moors. Debra successfully completed both Bronze and Silver Ten Tors Expeditions and Gold Duke of Edinburgh Award. By the age of 16 Debra was obsessed by explorers such as Sir Ranulph Fiennes and Chris Bonington and dreamed of one day being able to make a living out of expeditions in the way that they had.
Her love of adventure continued to grow during Debra's university years where she majored in outdoor education. Debra developed a passion for whitewater kayaking, rock climbing and mountaineering. As captain of the extreme white water kayaking club she led expeditions throughout the UK and spent her holidays climbing in the Alps in the summer months and teaching skiing in the winter.
Rowing the Atlantic:
In 1997, Debra Searle and ex-husband Andrew signed up for the Atlantic Rowing Challenge, considered one of the toughest endurance events in the world, the couple would race against 34 other crews rowing 3000 miles from Tenerife to Barbados. The race started on 7 October 2001.
Many teams do not even make it to the start line. The race costs in the region of £60k and competitors must build their own rowing boat from a flat pack (bit like an IKEA wardrobe!) supplied by the event organisers.
Once at the start line each team must propel their 23 foot boat across the Atlantic using only muscle power and 4 oars. Unlike sailing events, there is no use of sails so competitors must pull themselves and their hugely heavy boat across thousands of miles of ocean.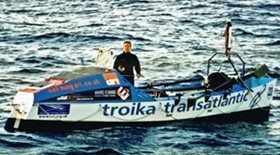 To do this, each team rows 24hrs a day working in shifts of 2hrs. During the 2hr off-watch period, each competitor has to eat, sleep, do ablutions, navigate and fill out the log book.
Living conditions are cramped. The boat has a small cabin which measures 6ft long by a few feet wide. The length of the boat means that for months competitors never take more than a few strides.
From early on after the start it became apparent that Andrew was suffering from acute anxiety and had an irrational fear of the ocean. Andrew and Debra tried to work through this but after 9 days it became clear that they would have to call on a safety vessel to take Andrew off Troika Transatlantic. It was a decision they made together as they both felt strongly that it was the only option for Andrew's well-being. It took a further 5 days for the nearest yacht to reach them, which gave Andrew time to help Debra prepare the boat for her solo voyage.
Debra was enjoying life on board and the challenge. Whilst she was a fairly inexperienced rower (she had learnt to row in the year leading up to the start of the race) she was an experienced expedition leader and mountaineer. She believed she could do it and wanted to give it her best shot, despite knowing that if something went wrong, she might never see her family again.
Andrew supported her 100% in her decision and continued to be a committed member of the team, helping with navigation and providing emotional support via Satellite phone for the following 3 months.
It took Debra 111 days, 5 hours and 43 minutes of rowing to reach Port St Charles in Barbados, becoming the youngest and only the third woman in the world to have rowed an ocean solo.
Debra arrived to rapturous applause from hundreds of well wishes and a large press contingent on 26 January 2002.
Debra Searle was heralded "…Britain's latest sporting heroine." by The Times. The media worldwide went crazy for the story of the 5ft 5" young lady who carried on rowing alone when her then husband, a 6ft 5" experienced oarsman, left the boat after developing an uncontrollable fear of the ocean.
The 3000 mile journey that was initially supposed to take 6 weeks took Debra a staggering 3 ½ months and saw her battling with 30 foot waves, force 8 squalls and sharks, while having to dodge tankers that came too close for comfort on more than a few occasions.  Worse than all of this, however, was dealing with the loneliness and solitude, but focussing on one motto kept Debra going: "Choose your attitude" and she certainly did.
Debra Searle MBE – Motivational Speaker:
Debra Searle's overwhelming positivity and 'go for it' attitude is contagious, while her modesty is endearing.
She regularly delivers both motivational presentations and after dinner speeches using her story to powerfully but subtly draw out key business and personal lessons.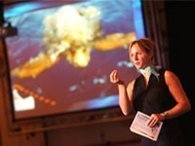 Debra is an incredibly natural communicator and often very emotive.  She shares her highs and lows, personal battles and victories to help illustrate in a very human way what we are all capable of.  She is not a motivational speaker reliant on buzz words, hype and jargon.
Her main themes are how to stay motivated, adapting to change, overcoming obstacles, improving team-work by encouraging each other and how to choose the right attitude however impossible the end goal may seem.
Every speech is written to help enforce the conference themes and will provide real world ideas and tools to help your people:
Stay motivated and be determined
Take risks when needed
Set goals and achieve them
Be adaptable to change
Overcome obstacles
Improve team-working through encouraging one another.
Choose the right attitude, however impossible the end goal may seem.
Choose Your Attitude!
Lead Yourself To Lead Others
Personal Resilience Strategies
Remaining Positive Through Change
Leading Into The Unknown
Wellbeing in Work & Play
Debra Searle powerfully illustrates with slides and stunning video footage and leaves her audience in no doubt of their own ability to achieve the extraordinary both individually and collectively.
She sets herself apart from other speakers by her level of commitment to each project.  Taking the time to ensure she fully understands the conference themes and gathering company and industry specific information allows her to tailor her presentation to the client's exact requirements.
Debra's sister, Hayley Barnard is also available for keynote speeches focusing on Unconscious Bias.