Debra Searle MVO MBE is an Inspirational Solo Atlantic Rower, Adventurer and Motivational Speaker
Debra has achieved so much in such a short space of time. From building businesses to setting records and winning Gold medals – Debra lives by her motto of 'Choose Your Attitude'.
Highlights include:
Presenting over 40 BBC programmes.
Winning gold medals with the GB Dragon Boat Team.
Being the youngest ever trustee of The Duke of Edinburgh's Award.

Having entrepreneurial success as the founder of five companies.

Having three books published.

Rowing solo across the Atlantic Ocean.

Receiving an MBE and MVO from the Queen.

Sailing the Southern Ocean.
Debra Searle Ted Talk

The Early Years:
Debra Searle, one of an identical twin, was born in Plymouth in July 1975.
Her love of children and the outdoors led to Debra choosing to study a BEd in Physical Education and Art, majoring in Outdoor Education. She graduated in 1997 with a first-class honours degree and was awarded an honorary Masters from DeMontfort University.
Debra started her career teaching physical education and outdoor education.
At the age of 24, Debra set up an Internet-based art company. She formed The Well Hung Art Company in 1999, specialising in Corporate Art Consultancy and promoting the work of lesser-known artists via the internet. Following the business sale in 2004, her childhood dream of becoming a full-time adventurer became a reality.
Rowing the Atlantic: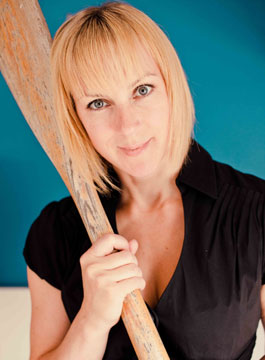 In 1997, Debra and her ex-husband Andrew Veale signed up for the Atlantic Rowing Challenge. The couple would race against 34 other crews rowing 3000 miles from Tenerife to Barbados. The row across the Atlantic started on 7th October 2001.
Each team rows 24hrs a day, working in shifts of 2hrs. During the 2hr off-watch period, competitors eat, sleep, navigate and complete the logbook.
The 23-foot plywood boat has a small cabin that measures 6ft long by a few feet wide. The vessel's length means that competitors never take more than a few strides for months.
From early on, after the start, it became apparent that Andrew was suffering from acute anxiety and irrational fear of the ocean. Andrew and Debra tried to work through this, but after nine days, it was clear they would need to call a safety vessel to collect Andrew. It took five days for the nearest yacht to reach them, which gave Andrew time to help Debra prepare the boat for her solo voyage. They decided together as they felt it was the only option for Andrew's well-being.
Debra, the novice rower, continued alone. While she was a reasonably inexperienced rower, she was an experienced expedition leader and mountaineer. She believed she could do it and wanted to give it her best shot, despite knowing that if something went wrong, she might never see her family again.
The Journey:
It took Debra 111 days, 5 hours and 43 minutes of rowing to reach Port St Charles in Barbados. As a result, she became the youngest and only the third woman in the world to have rowed an ocean solo.
She was heralded as "Britain's latest sporting heroine." by The Times. The world's media went crazy for the story of the 5ft 5″ young lady who carried on rowing alone when her then-husband, a 6ft 5″ experienced oarsman, left the boat after developing an uncontrollable fear of the ocean.
She rowed 3000 miles – a journey which should have taken them six weeks took Debra over three months at sea alone, encountering 30-foot waves, sharks and force eight storms, and on more than a few occasions, she had to dodge tankers!
However, worse than all of this was dealing with loneliness and solitude. The motto Debra focussed on keeping her going was "Choose Your Attitude".
Awards:
Debra has received numerous awards, including an MBE from Her Majesty the Queen, and was appointed a trustee of The Duke of Edinburgh's Award in 2003, the youngest and only female trustee working alongside His Royal Highness The Duke of Edinburgh.
Virtual Presentations by Debra
Debra Searle, Motivational Speaker:
Debra Searle's overwhelming positivity and 'go for it' attitude are contagious, while her modesty is endearing.
She regularly delivers both motivational presentations and after-dinner speeches, using her story to powerfully but subtly draw out business and personal lessons.
Debra is a very natural and experienced communicator. She shares her highs and lows, personal battles and victories to help illustrate what we can all achieve.
Speaking themes include:
Stay motivated and be determined.
Take risks when needed.
Set goals and achieve them
Be adaptable to change.
Overcome obstacles
Improve team-working by encouraging one another.
Choose Your Attitude!
Lead Yourself To Lead Others
Personal Resilience Strategies
Remaining Positive Through Change
Leading Into The Unknown
Wellbeing in Work & Play
Debra Searle, MVO MBE, sets herself apart from other motivational speakers through her commitment to each project.
Furthermore, she takes the time to ensure she fully understands the conference themes. Gathering company and industry-specific information allow her to tailor her presentation to the client's requirements. Book Debra for your virtual meeting or in-person event.
Debra's sister, Hayley Barnard, is also available for keynote speeches focusing on Unconscious Bias.