Andy Pag is a BBC reporter, Eco-Adventurer and Sustainability Speaker.
CAN'T FIND WHO
YOU'RE LOOKING FOR?
His adventures have included driving around the world in an old school bus powered by used cooking oil and driving a chocolate powered lorry to Timbuktu!
These unique forms of propulsion were Andy's personal journey to living sustainably, and the start of an experiment to prove that being green doesn't mean giving up the things we love doing.
An award-winning Journalist and Engineer, Andy Pag has lived out more adventures than most of us care to dream of. From being shot at by Senegalese bandits to being spoilt with Farrero Roche by the British Ambassador in Athens – Andy's travel tales are entertaining and inspiring.
After a decade of leading vehicle-based expeditions to the remotest parts of the Sahara, his encounters and experiences inspired him to change the elements of his life that were creating an unsustainable drain on the planet's resources.
In 2007, Andy researched renewable fuel technology that could power his travels. This led to him converting 4 tonnes of waste cocoa butter into 2000ltrs of biodiesel to fuel his journey from London to Timbuktu. This expedition was independently certified as the first-ever carbon negative expedition.
In 2008, he launched the Grease to Greece Rally. Competing teams had to drive across Europe powered only by waste vegetable oil that they scavenged from burger bars along the way.
This inspiring eco-rally has encouraged hundreds of people to try sustainable fuels in their car.
The Bio-Truck Expedition: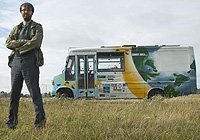 Is it possible to drive around the world using rubbish? Apparently, it is…
Andy bought an old school bus from a scrap yard and with the help of friends and got it running. He refurbished the inside into an eco-home using reclaimed materials and converted the engine to run on used cooking oil. The aim was to see if he could drive around the world using things that others have thrown away.
In September 2009, Andy set off from London, heading east and two years later he made it back to the UK. All of the fuel used had been made from sources of other peoples' waste.
As a result, Andy's eco-projects have attracted the attention of millions around the world as he shows how living sustainably doesn't mean calling a halt to everyday life.
Andy Pag – Keynote Speaker:
Andy is an expert in communicating the science and sociology of sustainable energy, but can also change a lorry clutch by the side of the road with a couple of old spanners and a piece of rope!
Andy's talks combine tales of derring-do with an inspiring message that inspire us all to live more sustainably.
An engaging and entertaining speaker, Andy speaks on topics such as:
Sustainability
The Environment
Teamwork and engaging with Communities across Cultures
Embracing Change
Travel & Transport
Being Green (It's not easy being green)
Science, Technology & Engineering
Science: Can we travel without fossil fuels?
Andy tailors each talk for each event, but themes often include:
Sustainability:
Is it possible to find a practical way to travel sustainably?
Andy shares the successes and failures of his entertaining eco-adventures with a thought-provoking and uplifting undercurrent.
From turning four tonnes of waste chocolate into fuel to travel across the Sahara Desert to starting a fire under his vehicle to melt frozen cooking oil in the centre of Tehran, the lessons haven't always been easy.
Facing a Challenge & Tough Times:
Locked up in an Indian prison over a bureaucratic mix-up, facing ten years in jail, sleeping on a cold stone floor sandwiched between a murderer and a squat toilet… Pag's two-year journey around the world wasn't going to plan.
Mechanical breakdowns of his Biotruck fuelled on chip fat dogged the expedition.  It almost came to an end when he ran out of fuel in a country where they don't eat fries.
Andy shares the upsides of the downs in an entertaining talk that reveals his insights into staying motivated.
Teamwork & Community (Engaging with the World):
After years of trial and error, Andy embarked on a journey so ambitious, it was bound to end in disaster. Strangely it didn't.
Andy puts the unexpected success of his Bio-Truck expedition down to the enthusiasm of others helping out a stranger.
He shares tales of generosity and friendship, drawing surprising conclusions about the power of Community and the secret to being invited in.