Leon Lloyd has played rugby at the highest level both with and against some of the best players in the world.
CAN'T FIND WHO
YOU'RE LOOKING FOR?
Leon signed for Leicester Tigers in 1996 and during his 11 years at the club had some incredible experiences, the most memorable being the team's victory in the 2001 Heineken Cup Final.
In 2000, Leon earned his first cap for England and went on to tour with the Barbarians on 5 occasions.
In 2007 he made the move from Leicester Tigers to Gloucester Rugby where he got off to a really promising start, scoring five tries in just six games.
By this point in his career Leon had battled against a number of injuries, however, it was during a game against the Ospreys in 2008 that he sustained an injury that would later prove to end his playing career.
Leon Lloyd – Life after Rugby:
Since retiring from the pitch, Leon has turned his experiences as a professional rugby player, and the doors rugby helped open for him, to his advantage in the business world and made that all-important transition into the 'real world'.
After being appointed as the Foundation Director of Oakham School in 2009, where he enjoyed three great years, he went on to become the CEO of the Legion Worldwide Group in 2012.
In 2014, Leon joined the board of a leading UK football management company and as a Director of Legion Sports Management, which specializes in the representation of top flight professional sportsmen and women, he has been able to combine both sport and business as a career.
From Boot Room to Board Room: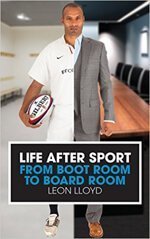 When faced with retiring from professional sport at the age of 30, Leon felt like he was perfectly placed to deal with his career transition. After spending some dark months trying to figure out what his next challenge was going to be, he noticed there was not much information readily available to people in a similar position, & those that went before Leon seemed to have also struggled with the sense of no longer having a purpose, so he decided to change that.
Through detailing his own highs & lows throughout his sporting career, he was able to highlight transferable skills & relatable experiences that were both useful to a retiring athlete to recognise, & also for a potential future employer to take advantage of.
By accident, there lay the foundations and creation of his first ever book – 'Life After Sport – From Boot Room to Board Room'.
Keynote Speaker:
As a keynote speaker, Leon Lloyd is passionate about the subject of transferable skills.
His speaking topics include:
People and getting the most out of those around you.
The importance of team work versus being an individual.
Resilience and dealing with set-backs.
Planning for success and the leadership involved.
Finding positives from every scenario.