Born in Chicago, Harvey Walden IV joined the U.S. Marines aged 17 and completed his Basic Military Marine training (also referred to as 'Boot Camp') at MCRD San Diego, C.A.
Walden was a Drill Instructor at MCRD Parris Island, S.C. and has trained numerous platoons making men into marines and officers and ensuring recruits are fully prepared to meet the challenges of the battlefield by supplying the tools necessary to perform given tasks with efficiency, and the confidence to succeed in the face of adversity.
An Elite Recon Marine, after serving over 20 years in the Marine Corps, Harvey retired in the summer of 2007 with the rank of First Sergeant.
As a motivational guru, Harvey always pushes his teams to their absolute limit and always set records with each platoon in drill and fitness tests, along with outstanding marksmanship.
Having undertaken extensive military training, his skills include: Scuba Diving, Parachuting, Survival Techniques, Teamwork and Leadership Skills, Weapons, Rappelling Expert and has black belts for various types of martial arts.
Harvey Walden maintains his own gruelling personal fitness regime everyday.
He has a keen interest in General Health, Sports and Fitness and has played semi-pro American Football as a running back for the U.K's London Mets.
Television – United Kingdom – ITV
Harvey is best-known in the U.K. for scaring the living daylights out of over-weight celebrities and contestants in ITV's prime-time shows 'Fat Club' and 'Celebrity Fit Club' as his role as the expert fitness instructor.
Television – United States of America – VH1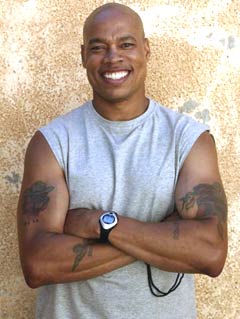 In each episode the celebrities attended 'Fit Camp' where they took part in a range of physical and motivational activities designed to shed the pounds, increase team spirit and rivalry, and win prizes.
You'd see them at home or work struggling to maintain their regime.
During each episode you'd see them at the 'Weigh In Ceremony' being individually weighed and judged by Harvey Walden, Dr. Ian Smith and Dr. Stacy Kaiser.
Harvey returned each season to make sure the Fit Club members get off their asses and WORK!
A DVD presented by Harvey was released in the U.S. to accompany 'Celebrity Fit Club'.
The Celebrity Fit Club Bootcamp Workout DVD received great reviews and gave CFC viewers the chance to workout to a selection of Harvey's fitness routines.
Harvey's other television appearances include:
E! Entertainment
Celebrity Weakest Link
FOX News
GMTV
CBS Entertainment Tonight
NBC's iVillage in the Loop
The Maury Show
The Star Jones Show
This Morning
SO Graham Norton
The Wright Stuff
The Tyra Banks Show
BBC News 24
Good Day – Fox TV
ITV 'Tonight'
Speaking Engagements have included:
Speaking to San Francisco Police Department
Speaking to Debenhams Fine Fragrance Staff
Speaking to Proctor & Gamble UK
Congressional Black Caucus Foundation
Speaking at the U.S. Marines Marathon Expo
Speaking at the Indiana Black Expo
Speaking to Sam's Club Employees
Harvey is available for:
Speaking Engagements focusing on Fitness, Teamwork and Leadership.
Personal Appearances
Team and Company Fitness Sessions
Advertising Opportunities
Endorsements