Colin Maclachlan is a former SAS soldier.
CAN'T FIND WHO
YOU'RE LOOKING FOR?
He has over 25 years of security and risk-related experience.
Colin starred in Channel 4's SAS: Who Dares Wins and Channel 5's Secrets of the SAS.
Maclachlan joined the Royal Scots in 1989, and after nine years, he passed SAS selection first time.
"SAS Colin Maclachlan was excellent and had everyone captivated from start to finish. All of the people who attended had nothing but high praise, and brilliant comments. I cannot recommend highly enough for Colin's services and professionalism."
Applied Materials Conference
Colin Maclachlan SAS Who Dares Wins
Colin's Special Forces team were involved in some of the most daring and high profile SAS missions in the past two decades.
Not many people have taken part in hostage negotiations, hostage rescue and been a hostage themselves – Colin is one of them.
On one mission, he waded through swamps in Sierra Leone hunting down the 'West Side Boys', a guerrilla gang holding 11 British soldiers hostage. It was a mission so dangerous they nicknamed it 'Operation Certain Death' – it's official name was Operation Barras.
The SAS teams secured the hostages' building and neutralised any West Side Boys.
Furthermore, Maclachlan was the first sniper on the scene when a hijacked flight with 180 passengers landed at Stansted. Sparking a four-day stand-off, it was the most prolonged standing hostage siege in the UK.
Four years later, Colin was on the other side of a rescue mission when he was taken hostage in Basra.
Blindfolded, battered and stripped naked, he had a gun pressed to his head and the trigger pulled, as his captors held mock executions. The only reason Colin survived long enough for British troops to rescue him was due to the terrorists wanting to film his suffering in a propaganda video before his planned execution.
Colin left the SAS shortly after completing an exchange programme with Delta Force and Seal Team 6.
He has since provided security consultancy for the Saudi Royal Family, Celebrities and U.S Media Networks.
Colin has also had several gaming roles in Grand Theft Auto, Max Payne, Red Dead Redemption 2 and L.A. Noire.
Colin starred in Series 1 of Channel 4's SAS Who Dares Wins before leaving in 2016.
Furthermore, Colin has a First Class MA (Hons.) in History from Edinburgh University and also an M.Litt in Terrorism from St. Andrews University.
SAS Motivational Speaker
As a keynote speaker, Colin Maclachlan delivers presentations on topics including:
Resilience
Teamwork
Leadership
Risk
Motivation
Performance
To check availability and fee, or to book SAS motivational speaker Colin Maclachlan please contact us.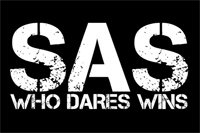 Other past and present SAS: Who Dares Wins instructors available for motivational speeches include: