Ann Widdecombe was a Conservative Member of Parliament for 23 years, first for Maidstone and then for Maidstone and the Weald until her retirement at the 2010 General Election
CAN'T FIND WHAT
YOU'RE LOOKING FOR?
Ann was born in October 1947 and was educated at the Royal Navy School in Singapore, La Sainte Union Convent in Bath, Birmingham University and Lady Margaret Hall, Oxford.
She has Honours Degrees in Latin, Politics and Economics and has an MA from Oxford University.
Politics:
From 1976 to 1978, Ann Widdecombe was a Runnymede District Councillor.
Ann contested Burnley at the 1979 General Election and fought Dr. David Owen at Devonport in 1983 before being selected to succeed Sir John Wells as the Member for Maidstone.
She was elected Member of Parliament for Maidstone at the 1987 General Election.
Between 1990 and 2001 Ann Widdecombe held positions which included:
Parliamentary Under-Secretary of State for the Department of Social Security
Parliamentary Under-Secretary of State for the Department of Employment
Minister of State at the Department of Employment
Minister of State at the Home Office
Member of Parliament of Maidstone and The Weald
Member of The Standards and Privileges House of Commons Select Committee.
Shadow Secretary of State for Health
Shadow Home Secretary
In July 2001 she announced her decision to retire from the Shadow Cabinet citing the wish to be able to speak on issues which she felt strongly about without the constraints which being a Front Bencher necessarily imposes.
Author:
Miss Widdecombe published her first novel 'The Clematis Tree' in April 2000 which became a best seller. Other books include:
An Act of Treachery
Father Figure
An Act of Peace
Strictly Ann – The Autobiography
Sackcloth and Ashes
Television and Press:
Ann Widdecombe has enjoyed participating in various television programmes including her own prime time television show on BBC2, 'Ann Widdecombe to the Rescue'.
Other programmes Ann has participated in include;
Call My Bluff
Celebrity Scrabble
Countdown – Dictionary Corner
Grumpy Old Women
Parkinson
The Wright Stuff
Celebrity Fit Club – as a contestant and then judge
Nothing But the Truth
Ann Widdecombe versus
Strictly Come Dancing
Get Your Act Together
24 Hours in the Past
Ann has also contributed to many other programmes on a wide range of subjects including travel, politics and religion.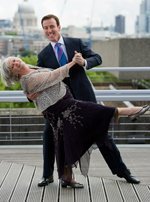 In October 2010, Ann appeared on BBC One's Strictly Come Dancing. Partnered by Anton du Beke, she won the support of the viewers despite low marks from the judges.
After 9 weeks of dance routines the couple had received enough support in the public vote to stay in the contest. Ann was eliminated from the competition after the public vote had been combined with the judges' score.
As well as Television and Radio, Ann Widdecombe has built up a strong reputation in the print media mainly as a columnist for several newspapers.
In 2018, Ann entered into the 'Celebrity Big Brother' house.