Adrian Webster is one of the UK's best motivational speakers for live and virtual events.
An international best-selling business author, his books include the Polar Bear Pirates, Sort Your Brain Out and Tiny Noticeable Things.
As a motivational speaker, Adrian's speciality is delivering messages in a humorous and unique style that delegates can relate to and remember.
Adrian's speeches help people make a real difference in their workplace at any level and from any background.
"Adrian was brilliant – he did a fantastic job, particularly with the whole virtual thing."
Vodafone Virtual Meeting
Adrian Webster Motivational Speaker:
Drawing on a vast amount of practical experience, Adrian takes his audience on an emotional roller-coaster ride.
He brings to life a world of motivational terminology and characters from his best-selling series of 'Polar Bear Pirates' books.
Adrian's Polar Bear Pirates world is closer than you think! It's a world where TNTs rule, SONAR is important, Neg Ferrets and BLOATERS reside, Planet Complacency is a place to avoid, and Sleepwalkers get woken!
"Adrian spoke to a mixed audience of languages, roles and seniority. He gave those of us that work at Illumina 'the World's Smartest Company,' something to think about and to smile about!"
Illumina

Adrian Webster – The Background:
The son of a Yorkshire coal miner, Adrian Webster started his career started in Bristol as a Police Officer.
He left the Police to set up a dairy business and became the Corporate Sales Manager of  US Robotics – becoming a leading salesman.
Within two years, he was one of the most successful sales professionals in the IT industry.
He then joined Northamber Plc as Group Sales and Training Manager, where he was responsible for recruiting, motivating and 'driving' over 150 staff, achieving phenomenal success on shoestring budgets.
To inspire his people to deliver extraordinary results, Adrian created the world of 'Polar Bear Pirates'.
Webster gained a reputation as a top motivator and team builder turning groups of everyday people into some of the most productive in the IT industry.
Fuelled by a desire to gain a better understanding of what makes exceptional people tick, Adrian started to research some of the UK's most successful people.
From Police Officer to milkman and salesman to best-selling business author, Adrian Webster's research, mixed with his real-life experiences, raw energy and sense of humour, make Adrian an entirely original, entertaining and very popular motivational speaker.
Speaking topics include:
Thriving In Tough Times – Delivering Outstanding Results.
Virtual Team Motivation. Watch Adrian speaking virtually
Creating High-Performance Environments.
Resilient Teams and Psychological Safety.
Everyday People Being Extraordinary, Together Making A Difference.
Inspirational Leadership and How to Get The Very Best Out Of People.
Exceptional Customer Service – Putting Customers At The Heart Of Everything.
Team Building – Pulling and Sharing as One Big Team.
Self Motivation and DIY Belief.
Growing Great People.
Behavioural Change and Cultural Change.
Embracing/Leading Change.
Winning The Sales Game and Maintaining an Edge Over the Competition.
Communication – Effective SONAR Communicators.
TNTs – Tiny Noticeable Things.
"The guys are still talking about Adrian!
Thought-provoking stuff which we were all able to relate to."
Thomson Airways – TUI
Polar Bear Pirates – The Books: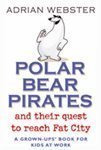 Polar Bear Pirates and Their Quest to Reach Fat City.
This best-selling book has the appealing appearance of a child's book, but contained within is a whole new world of characters and terminology that anyone striving for success in whatever they do will instantly relate to and be able to put to good use.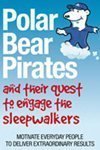 Polar Bear Pirates And Their Quest To Engage The Sleepwalkers.
In their latest quest, Polar Bear Pirates come to the aid of the Sleepwalkers, those in the workplace who have fallen into comfy routines and drifted into the orbit of Planet Complacency. Thinking the same way, delivering the same results and shining at just 60 watts, these 100-watt team players are capable of so much more.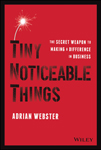 TNTs – Tiny Noticeable Things
TNTs are all the little things that people don't need to do but do. Though small, they create the biggest, longest-lasting impressions in people's minds; they show how much you care; they make and break relationships – yet they cost nothing.
As well as the Polar Bear Pirates books, Adrian collaborated with neuroscientist Dr Jack Lewis to write 'Sort Your Brain Out'.
SYBO features advice and tips to help with creativity, sharpen thinking, manage stress, boost performance and achieve more.
Adrian Webster Polar Bear Pirates Workshops:
Adrian's 1-2hr, half-day or full-day fun workshops will challenge your people to make a difference.
Everyday People – Together Delivering Extraordinary Results:
Attendees will learn practical Polar Bear Pirate motivational tools which they can take away and apply in the workplace.
As a result, delegates will come away inspired and pulling together as one big team, re-energised and more productive.
Putting Our Customers At The Heart Of Everything We Do:
This practical workshop focuses on simple but highly effective techniques that will help you go way beyond your customer's expectations.
SONAR Leadership – Engaging and Inspiring Our People:
For managers who need to lead, engage and inspire their people.
This challenging and thought-provoking workshop is about getting the best out of individuals. As a result, it will bring them together as one high-performing team, achieving outstanding results. At the heart of it are topics such as Mindfulness, Emotional Intelligence, Mental Resilience and Open Ownership.
Adrian Webster Motivational Speaking Feedback:
"Over the last four months, we've spent so much time at home and in front of a device that screen time feels more like scream time! Along comes a stranger, stirs up a whole load energy, drive and anti-chaos and we're left with this wonderful feeling. I thought Adrian Webster would be another one of those speakers, he wasn't, Adrian was the ignition to get us thinking clearly about how we get together again after lockdown. His virtual talk was the best thing I've seen in a long-time – this is screen time I would gladly engage with anytime." Laggi Diamandi, Head of L&D, Foster + Partners
"Thank you yet again for such a successful event. It was super inspirational and I felt myself smiling and feeling "that is totally me" throughout the session. It was such a great time listening to your thoughts and experiences!" vmware
 "I personally would like to thank you again for this amazing session on our MHLC – I am so impressed and hope to work with you in the future" Dematic GmbH
 "Absolutely outstanding talk from motivational speaker Adrian Webster who joined the Adyen Virtual lunch today and blew our minds with TNT's!" Adyen (Payments Platform)
 "Our favourite speaker of the day! We had on the spot positive comments. Adrian Webster was lovely to work with and a big hit with the members." British Promotional Merchandise Association
 "Feedback is very positive and thank you again for contributing to our day. Your talk was exactly what we needed to hear and the staff valued you being with us and sharing your insights" Leeds Teaching Hospitals NHS Trust
 "Feedback was overwhelmingly positive.  The team thoroughly enjoyed listening to you – and participating!  Your talk was engaging and uplifting and I thought the audience participation was a real highlight – and not easy in a virtual group of 300!  You made it work very well." Agilent Technologies
"The feedback I have had from those that attended has been extraordinary – in fact, the very best we have had for a speaker, having run a number of similar events over the last 7 years." HSBC
"That was very special Adrian. I've never seen such a reaction from our people. Thank you so much and speak soon" Royal Canin