Adrian Webster is one of the most entertaining and effective motivational speakers in the UK.
CAN'T FIND WHAT
YOU'RE LOOKING FOR?
Riot copper, milkman and salesman were just a few jobs Adrian had before he moved into the IT industry and discovered an ability to motivate and inspire others.
His speciality is delivering messages in a humorous and unique style that audiences can easily relate to and remember.
Adrian's motivational speeches help people, at all levels, and from diverse backgrounds, make a real difference in their workplace.
"The guys are still talking about Adrian!
Thought-provoking stuff which we were all able to relate too."
Thomson Airways – TUI
Motivational Speaker & The Polar Bear Pirates:
Drawing on his vast amount of practical experience as a motivator, high-performance team builder, leadership, behavioural change and customer service expert, Adrian Webster takes his audience on an emotional roller coaster ride.
He brings to life a whole new world of fun motivational terminology and characters from his best-selling series of 'Polar Bear Pirates' books that everyone can instantly identify with, take away and put to good use.
Adrian's world of 'Polar Bear Pirates' is closer than you think!
It's a world where TNTs rule, SONAR is key, Neg Ferrets and BLOATERS reside, Planet Complacency is to be avoided, and Sleepwalkers are woken – all of whom you will instantly recognise.
"Adrian spoke to a mixed audience of languages, roles and seniority. He gave those of us that work at Illumina 'the World's Smartest Company', something to think about, as well as smile about!"
Illumina
Adrian Webster – The Background:
The son of a Yorkshire coal miner, Adrian started his career as a Police Officer in Bristol.
He left the Police shortly after the St Paul's riots to set-up his own business.
He spent the next four years building a dairy company, knocking on doors successfully persuading households and local shops to buy his milk. As a result, Adrian started selling a wide range of products, ranging from frozen food to property.
He quickly discovered the ability to make some real money in sales and began to take selling seriously.
Adrian later moved into IT sales at US Robotics, and within two years he had established himself as one of the most successful sales professionals in the industry.
After this, he joined Northamber Plc where he was responsible for recruiting, motivating and 'driving' 150 staff to achieve phenomenal success on shoestring budgets.
Out of necessity to inspire his people to deliver extraordinary results, Adrian created the world of 'Polar Bear Pirates'.
As a result, he quickly gained a reputation for turning teams of everyday people, with little or no apparent ability, into some of the most productive in the IT industry.
Fuelled by a desire to gain a better understanding of what makes exceptional people tick, Adrian set about researching some of the UK's most successful people.
These six years of research, along with his real-life experiences, raw energy and sense of humour combine to create a thrilling presentation which is entirely original, hilariously funny and very effective.
Adrian's speaking topics include:
Thriving In Tough Times – Delivering Outstanding Results.
Creating High-Performance Environments.
Everyday People Being Extraordinary – Together Making A Difference.
Inspirational Leadership – Getting The Very Best Out Of People.
Exceptional Customer Service – Putting Customers At The Heart Of Everything.
Team Building – Pulling and Sharing as One Big Team.
Self Motivation and DIY Belief.
Engaging With and Inspiring People on Tight Budgets.
Innovative Thinking.
Growing Great People.
Behavioural Change.
Cultural Change.
Embracing/Leading Change.
Winning The Sales Game.
Communication – Effective SONAR Communicators.
Maintaining an Edge Over the Competition.
Polar Bear Pirates – The Books: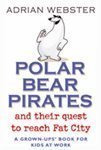 Polar Bear Pirates and Their Quest to Reach Fat City.
This best-selling book has the appealing appearance of a child's book, but contained within is a whole new universe of characters and terminology that anyone striving for success in whatever they do will instantly relate to and be able to put to good use.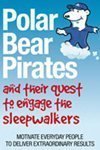 Polar Bear Pirates And Their Quest To Engage The Sleepwalkers.
In their latest quest, Polar Bear Pirates come to the aid of the Sleepwalkers, those in the workplace who have fallen into comfy routines and drifted into the orbit of Planet Complacency. Thinking the same way, delivering the same results and shining at just 60 watts, these 100-watt team players are capable of so much more.
The Polar Bear Pirates' mission is to reawaken dormant talent, release untapped potential and motivate teams to step together beyond ordinary.
These unique books are far more than entertaining and engaging light reads; they provide readers with practical tools and tips to become the success they want to be.
As well as the Polar Bear Pirates books, Adrian collaborated with neuroscientist Dr Jack Lewis to write 'Sort Your Brain Out'.
SYBO features advice and tips to help induce innovative creativity, sharpen thinking, manage stress, boost performance and achieve more.
Polar Bear Pirates – The Workshops:
Adrian's 1-2hr, half-day or full-day workshops will challenge your people to really make a difference.
The workshops are extremely useful; lot's of fun and individually designed to meet your exact needs.
Everyday People – Together Delivering Extraordinary Results:
Attendees will be given practical Polar Bear Pirate motivational tools that they can take away and apply in their workplace.
As a result, delegates will come away inspired and pulling together as one big team, re-energised and more productive.
SONAR Leaders – Engaging and Inspiring Our People:
For managers who need to lead, engage and inspire their people.
This challenging and thought-provoking workshop is all about getting the very best out of individuals. It will bring them together to work as one high-performance team, achieving outstanding results.
Putting Customers At The Heart Of Everything We Do:
This practical workshop focuses on simple, but highly effective techniques, that are guaranteed to help you go way beyond your customer's expectations – without spending money!
New for 2019:
SONAR Leadership is an emotional thing.
It's about five behaviours:
Making time and space to listen and engage.
Showing you really care.
Being human.
Being authentic.
Constantly challenging those around you.
Keys to it working:
Being prepared to change.
Not being afraid to make mistakes.
Being more passionate about others and what they are capable of achieving than they are themselves.
At the heart of it:
Mindfulness: Emotional Intelligence: Mental Resilience: Open Ownership.
In short:
It's all about how you make people feel.