Tony Harris was an officer in the Royal Regiment of Fusiliers for 10 years. Having served in operations in Northern Ireland and Iraq for almost 700 cumulative days, Tony led a Fire Support Group as part of the 2RIFLES Battle Group to Sangin, Helmand Province, Afghanistan in the summer of 2009.
We're here to help,

so please contact us with any questions...
Whilst conducting operations against Taliban forces in a remote desert east of Sangin, Tony's vehicle was struck by an explosion. The bomb blast threw Tony more than 20 metres from his vehicle, shattering both his feet and his left arm. In difficult surroundings and having just finished a fire fight with the Taliban, Tony's soldiers set to work stabilising and preparing him for the emergency helicopter evacuation back to Camp Bastion.
Following the explosion, Tony underwent more than 20 operations over a nine month period to save his left foot, all to no avail. The pain, lack of mobility and haze of drugs reinforced the decision that Tony and his family would make together. In March 2010, Tony's left leg was amputated and his path to recovery began.
Not one to take things slowly, Harris threw himself into charity work and inspirational endeavours.
Row2Recovery:
Climbing Pen-y-Fan in Wales just eight weeks after his amputation proved to Tony that he could still lead an active and rewarding life, but that he had limitations due to his injuries. Inspired to prove that injuries do not define an individual or their future, Tony and two of his friends began putting together a team to conquer the Atlantic Ocean. Row2Recovery was born. This team of four other injured servicemen and two able bodied veterans successfully completed their 3,000 mile challenge in January 2012 and raised over £1.2M for service charities proving that they could go beyond injury and achieve the extraordinary.
Race2Recovery: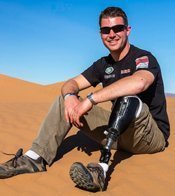 Co-founded by Tony, Race2Recovery comprised of injured soldiers from the UK and US, set on becoming the first ever disabled team to complete the world's hardest motor race – the Dakar Rally, recognised as the pinnacle of endurance motorsports.
With four cars starting the race, it was always going to be an epic challenge just to finish. Just one of the four cars completed the 8,500km course, having raced at altitudes of 4,900m in the Andes, navigated the Atacama Desert and steered their way through Peru, Argentina and Chile. Despite the attrition rate, the team succeeded in their goal of completing the race, inspiring others with their actions and demonstrating the teamwork and motivation required to push the boundaries of the possible.
Tony is continuing his work with Race2Recovery and is already planning his next assault on the Dakar among other rallies.
Motivational Speaker:
As a motivational speaker, Tony uses his radical life changing experiences to help others face change with humility, integrity and courage.
Tony draws on his military career as an Infantry Officer, Leadership Instructor at the Royal Military Academy Sandhurst and from his experiences of setting up high performing teams to make his subjects relevant, informative and fun.
Topics include:
Overcoming Adversity
Adapting to Change
Leadership
Teamwork