Sally Gunnell OBE DL is an Olympic Legend, Broadcaster and Motivational Speaker
Sally Gunnell is the only woman in history to have ever concurrently held all four major championship gold medals – Olympic, World, Commonwealth and European as well as the World record.
Starting at Essex Ladies' Club as a long jumper and pentathlete, Sally switched to the 400m hurdles.
She quickly established herself as a force to be reckoned with in British athletics. In 1992, Sally achieved the one missing piece from her already impressive trophy cabinet at the Barcelona Olympic Games – an Olympic Gold medal.
Following her retirement in 1997, Sally moved from the track to the television studio and, after a spell commentating for BBC Sport, she moved to prime-time television.
Sally Gunnell OBE – Motivational Speaker:
Voted 'one of the country's top ten Olympic heroes', Sally Gunnell is a popular, inspirational and motivational speaker.
Approachable and down-to-earth, she not only tells her own incredible story, but she helps businesses get the very best out of their staff, showing that it's possible to achieve anything with the right mindset.
As a speaker, Sally concentrates on her drive for success and how she adapted her training regime and life as a whole, to ensure she would achieve her ultimate goal of Olympic Gold: the specific techniques she absorbed to ensure her body was finely tuned at exactly the right moment for the ultimate competition; the inevitable low points and how one can use mental power to overcome failure and use it to your advantage – these are the signs of a true winner.
Sally believes winning is 70% mental and 30% physical and offers insight into the strategies she employed to ensure she won and won again.
She relates all her experiences to the non-sporting world, offering tips to improve everyday performance.  She also relates her experiences to her post-competitive career and current goals.
Sally's experience allows her to tailor her presentation to incorporate specific corporate messages.
She has provided dedicated sessions on coaching and working with the team around you, work-life balance and maintaining excellence.
She can work closely to a brief, bringing her competitive experience into a concise corporate message.
Key Points:
Teamwork
Focus & Concentration
Motivation
The Pressure at the Top
Goal Setting
Competition & Rivalry
The Power of Mental Visualisation
Changing to Ensure Success
Attention to Detail
Leadership (as women's team captain)
Work/Life Balance.
Resilience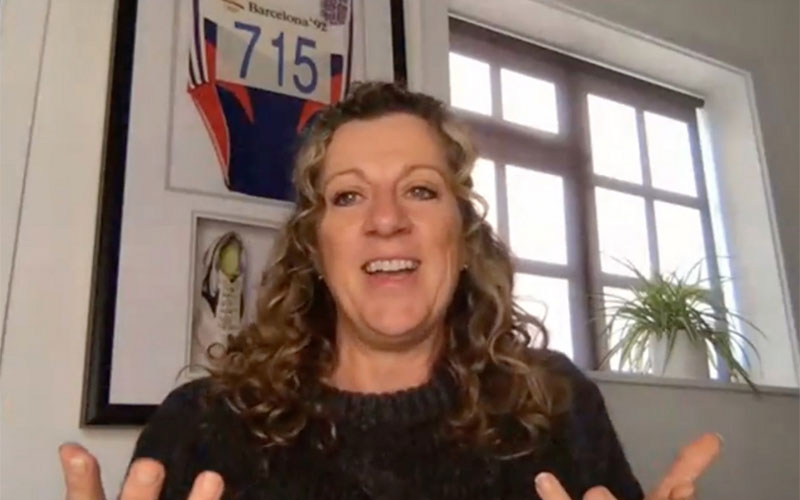 Sally Gunnell Wellbeing and Mental Fitness Speech
The level of our 'Mental Fitness' determines how well we cope with, and meet the psychological demands on our lives.
Are we thriving or just surviving?
Factor in the COVID-19 pandemic and our mental fitness levels have likely depleted to significantly low levels.
The question is, why is our mental fitness so important, and what can we do to increase and maintain it? 
In this powerful keynote, Sally will take the audience back to the lowest point in her career. Dealing with the expectations and pressures the nation and the world had placed on her shoulders to defend her Olympic title, and subsequently not being able to deliver!
What was that like? How did she pick herself back up and move on? How does Sally use this valuable knowledge now to navigate and get through the pandemic and the journey out of it?
In this keynote speech, Sally will cover:
What is Mental Fitness, and why it's important?
Recognising Mental Fitness levels.
The role positive thinking plays in our mental fitness.
Easy to implement steps individuals can apply to build their own Mental fitness.
Sally also discusses resilience and how it's about coping with stress and pressure when the going gets tough! When life knocks you down, have the strength to get back up, again and again. The tips and tricks audiences go away with are invaluable to their work and home life, the individual and the business.  It's about being proactive rather than reactive. Implementing small changes that are sustainable but collectively make the greatest difference!
Sally weaves in key areas individuals can address that will support their well-being and improve their confidence: Fuelling ourselves, being Active, the power of Sleep, Mental strength, and fulfilment, which comes from witnessing our own growth.