In 2005, Brad Burton was £25,000 in personal debt, delivering pizzas to keep his start-up marketing business afloat with a whinging wife demanding he "go get a proper job". He ignored her.
CAN'T FIND WHO
YOU'RE LOOKING FOR?
Today he's a leading motivational speaker and founder of the multi-million-pound international business network he started, 4Networking.
He is also the author of 4 bestselling business books, and his the highest-rated and reviewed author on Amazon
What Brad delivers is raw, entertaining and thought-provoking business seminars loaded with humour that audiences love.
Don't let the jeans and t-shirt fool you – this is a speaker who will change forever the way you'll think about life, business and your approach.
"Brad's talk at Xerocon was the highlight of the conference."
Gary Turner – Xero Co-Founder
There are times in every business when workplace motivation dips, times when people forget what made them great as a team or the reason 'why' is lost. This is where Brad comes in!
Yes, he wears jeans, T-shirts and has tattoos. It's all part of the magic, the charm; the charismatic approach of understanding that to be a success in business it's not what's on the outside it's about having a positive mindset.
Brad is the founder of a business networking company that runs 5,000+ events every year in the UK alone. He's also written the highest-rated and reviewed business books on Amazon.
Brad Burton knows his stuff – inside out!
He is an amazing business speaker, who truly engages and energises audiences with his humour, anecdotes, he shakes up thinking.
He makes things happen, he brings teams back together, reigniting hunger for success.
Whether it's talking to a room of 1 man bands, or sales teams of multinationals Brad's words and actions land with everyone.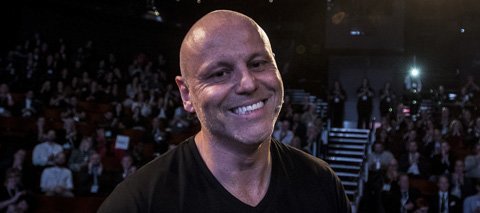 "Beneath the bluff exterior of the self-styled 'fat bloke from Manchester' is a shrewd business brain"
The Times
Brad Burton – Motivational Speaker:
As a business owner who has suffered all of the worries, challenges and indignities of launching a business, Brad knows what it's like and tells it how it is.
Not as thick as he looks, Brad was told "It'll never work" and has answered his critics in the best possible way – by proving them wrong and spearheading the fastest growing business breakfast network in the world, 4Networking, which runs over 5000 meetings across the UK each year.
As a motivational speaker, Brad will leave you all fired up ready to…
Develop Your Passion, Increase Your Sales – Creating the conditions where people buy.
Motivate Yourself AND Those Around You – The power of enthusiasm, belief and vision.
Why You Need to Innovate Constantly – Being different works… as Brad himself demonstrates!
Deal with Knock-Backs, Learn From Adversity – Everything happens for a reason, even the shitty* stuff.
* PLEASE NOTE: Brad has been known to use the occasional swearword!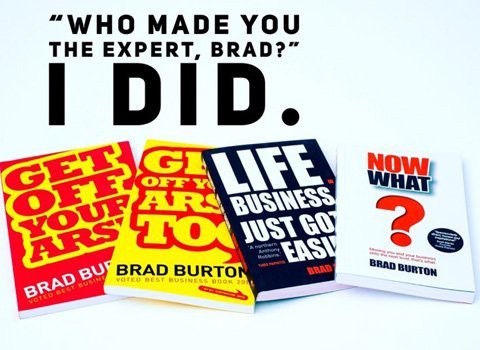 The Books:
Brad's first book 'Get Off Your Arse' (released in 2009) is a fresh look at biz and networking. The book is widely acclaimed, with over 362 Amazon reviews averaging 4.9/5! GOYA is taking the business book world by storm.
'Get Off Your Arse Too' (released in 2011) is Brad's unique and raw look at life/business and why everything happens for a reason, even the shi**y stuff. GOYA Too is a self-help/biz book for people who DON'T like self-help/biz books!
'Life. Business. Just Got Easier' is a motivational smack in the face!
Once a regular in the dole queue, burdened with unbearable levels of debt, Brad is now the MD of a multi-million-pound international business. Brad shares practical, actionable steps – stuff you can actually do – to improve your life, both at home and in business.
'NowWhat' is Brad's latest book, where his experiences shared draw out thought-provoking lessons that will help you work out your next steps in positively dealing with change, challenges and distribution in your life, business and the world.
He's learnt exactly how to motivate yourself, focus on your passion, face setbacks and keep on moving forward.