Ben Collins is the former 'Stig'.
Ben entered Motorsport in 1994 and began a winning career in Single Seaters (International Formula Three, Le Mans 24 Hours, Formula One Testing).
In 2003 a switch to American NASCAR racing brought the European Days of Thunder Crown. Ben destroyed the opposition to score a record number of points, beating experienced drivers from the ARCA, BUSCH and CHAMP CAR series.
Few racing drivers can boast to have won as many races in such a variety of racing series as Ben Collins, from Le Mans racing to Formula Three to Nascar Stock Cars.
Ben Collins – The Man in the White Suit:
Best know for his role as 'The Stig', Ben Collins has put every known supercar to the test, racing the world's greatest cars, from the Bugatti Veyron and Ferrari 430 Scuderia to a London Routemaster.
From the anonymity of his white helmet he taught some of the world's most famous stars how to lay down a fast racing lap, managed to catch a parachutist in his moving car and coached a blind man how to take on a chicane.
Few others, if any, have taken on a British Army tank division in a Mitsubishi Evo.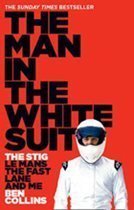 As a presenter, Ben has presented 'Extreme Teens' for the BBC and has worked on Driven, Pulling Power and Fifth Gear.
Ben has worked with a number of celebrities over the years including teaching Daniel Craig the fine art of advanced driving for the Bond Movies – 'Quantum of Solace' and 'Skyfall'. As a consultant on set, Ben was a key member of the stunt team which produced some of the most daring car stunts ever seen.
Ben's bestselling memoir, The Man in the White Suit (The Stig, Le Mans, The Fast Lane and Me) charts a life of passion, commitment and a determination to succeed in the highly competitive adrenalin fuelled world of motor sport
After-Dinner and Motivational Speaker:
Ben Collins is an expert on driving and the mental aptitude required to be a professional.
He is able to communicate what it feels like to race, where split-second timing, high pressure and total focus are key, and then to adapt these skills to the challenges of everyday life.
Ben's strength of character was revealed very early on, when as a child his family moved to America and he was enrolled into a local swimming team. His competitive nature drove him to nationwide competition and a grueling training regime of 30 hours a week by the age of 7.
Winning was etched into his ethos and the determination to succeed has remained a constant throughout his life.
Ben understands the corporate world well and as Brand Manager for Hornby Scalextric for several years was responsible for a significant upturn in sales.
Ben spends a great deal of time hosting corporate events and track days and is sensitive to the complexities of the business world.  Clients include: Vodafone, DHL, Sony, Oakley, Sunday Times.
Ben's boundless enthusiasm, interest in all things and never-say-die attitude makes him a captivating speaker.
His unique and ongoing career exemplifies making the most of every opportunity and his story relates how personal development and great commitment will overcome all the odds.