Matthew 'Ollie' Ollerton is a former SBS Special Forces Soldier.
CAN'T FIND WHO
YOU'RE LOOKING FOR?
Ollie is a former member of the Directing Staff in Channel 4's prime-time hit show 'SAS: Who Dares Wins'.
He currently features in Channel 7's 'SAS Australia'.
Based on elements from real Special Forces Selection, the program puts civilians through an eight-day selection process testing the candidates mentally and physically.
Ollie Ollerton joined the Royal Marine Commandos aged 18 years old. He undertook operational tours in Northern Ireland and Iraq (Operation Storm)
Special Forces Selection
Upon his return to the UK, following five years service with the Commandos, Ollie was recommended for SAS Special Forces Selection. Upon completion of the gruelling six months selection process, Ollie was one of just seven candidates who passed selection from an initial 250 that started the course.
On completion of SAS selection, Ollie joined the SBS (Special Boat Service) to undergo further training qualifying him as a Special Forces Combat Frogman.
During six years in the SBS, he undertook several high profile missions in a variety of locations both on land and sea.
Ollie's missions included hostage rescue, counter-narcotics, counter-terrorism, homeland security, counterinsurgency operations and humanitarian efforts. Furthermore, Ollie is also qualified to pilot a Submersible Dive Vessel (SDV) – a mini-sub that inserts Special Forces Combat Soldiers behind enemy lines.
Life after the SBS
After leaving the SBS, Ollie initially worked in Iraq as a private security contractor for American TV crews. During one contract, Ollie was responsible for saving 12 members of his vehicle convoy from armed attack while driving his vehicle at 140kms per hour en-route to Baghdad.
Furthermore, he spent seven years in the Middle East as a Country Project Manager for major infrastructure projects. Ollerton was responsible for employing and training a 2000 strong Iraqi guard force. Ollie Ollerton is a Special Forces bodyguard instructor with extensive military and corporate experience for private projects and government officials.
Ollie then headed to South East Asia to work for a charity. Using his incredible military training, Ollie commanded a three-person team who bravely infiltrated child-trafficking organisations. During one mission, the team rescued 22 children destined for the sex trade and sweatshop labour. The children were taken to safe houses and are now being educated and live happy lives in a loving, caring environment.
Motivational Speaker Ollie Ollerton delivers keynote presentations that include topics such as teamwork, risk, resilience and leadership.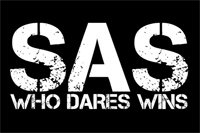 Other current and former SAS: Who Dares Wins DS instructors available for motivational speeches after dinner speeches include: