Jamie 'Jay' Morton was a DS team member on Channel 4's 'SAS: Who Dares Wins'.
CAN'T FIND WHO
YOU'RE LOOKING FOR?
Joining the series in 2020 as a mole, Jay was tasked with reporting back to Ant, Billy, Foxy and Ollie with valuable insight into the new recruits.
Jay has 14 years of distinguished military service, 10 within UK Special Forces (SAS) and 4 within the Parachute Regiment.
Trained as a high-level shooter and operator, Jay carried out fast-paced decision making in a multitude of ever-changing hostile and arduous environments.
Deployed on Multiple Tier 1 operations, Jay undertook intelligence-led strikes, intelligence gathering and delivered mentorship and training to foreign Special Forces units.
Jay Morton has been on 4 x tours of Afghanistan, 3 x tours of Iraq and 2 x covert operational deployments.
An expert in HALO (high altitude low opening) and HAHO (high altitude high opening) parachuting, Jay has been involved in multiple operational jumps into hostile territory.
Qualified as a Patrol Medic, Jay can perform life-saving trauma aid, as well as prolonged field care including minor surgery. He has also worked in a number of main and field hospitals, forward-mounted in hostile countries.
Trained as a Military Mountain Guide (HBF) and DSV Ski Teacher, Jay can carry out military and civilian-led expeditions, tactical and non-tactical, in all seasons, in mountainous and extreme cold weather terrain.
As a result, Morton has led a number of successful expeditions to the summits of some of the highest mountains including 2 x summits of Mount Everest.
Other qualifications include:
Advanced driver (blue light & evasive driving techniques in high performing vehicles)
Surveillance trained.
Protective security (close protection bodyguard, VIP and subject handling security).
Weapon handling expert.
Urban climbing instructor.
Jungle, Arctic and Desert warfare trained.
Expeditions:
Following on from Everest, Jay has a number of expeditions planned for 2020 including:
K2 expedition – To climb the second-highest and most dangerous mountain in the world.
Himalayas expedition – to climb unclimbed peaks in the Himalayas.
Expedition to Greenland to climb unclimbed peaks.
Jay Morton – SAS Who Dares Wins Speaker
Jay delivers inspirational presentations based on his incredible life as a Special Forces operator and Everest conquerer.
As a SAS Motivational Speaker, Jay's themes covered in teamwork, risk, resilience and leadership.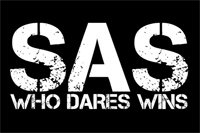 Other current and former SAS: Who Dares Wins instructors available for motivational speeches include: