Garry E. Hunt is a former NASA Scientist and Keynote Business Speaker
CAN'T FIND WHO
YOU'RE LOOKING FOR?
Originally an international scientist, and a member of NASA (JPL/CalTech), from whom he holds 4 awards for his research activities, Garry Hunt has held many appointments in leading UK and US Universities as a Professor of Atmospheric Physics.
Garry Hunt is Chairman of the Advisory Board Technology, Communications, Media and Entertainment of Ernst & Young, visiting Professor at Kingston University Business School and other Business Schools in UK & US, member of the Industry Advisory Board, School of Technology, Kingston University, he has held Executive Directorships positions at PA, Logica Consultancy (CEO), ICL Group & non-executive Directorships with Fleishmann Hillard, Sequent Computers, EDS, International Imaging Systems (Silicon Valley USA), HW Group plc, Trustmarque plc, Globebyte, Onestopclick and Ernst & Young (EMEA).
He continues to work internationally & has an extensive business network. In 1991 Garry Hunt was made a Freeman of the City of London, in 2002 he received a Queen's Golden Jubilee award for his community activities and in 2005 the status of a Chartered Scientist.
These business activities continue to provide him with a wealth of corporate knowledge and experience of business-led information technology, telecommunications, broadcasting, environmental issues & the associated human resource matters.  He continues to assist national and international organisations, venture capital companies with mergers/acquisitions, MBOs, floatations, fundraising, due diligence, financial performance, changing their culture and working practices, and working with them to make the best use of information technology to achieve their business goals.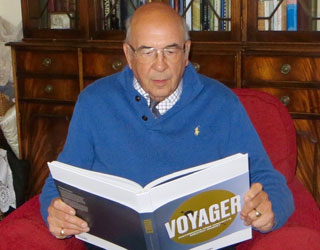 NASA Voyager Mission
NASA's Voyager mission to the four gas giants and beyond is one of history's most iconic, monumental, and scientifically relevant journeys of exploration.
A journey to the unknown. Two robotic spacecraft embarked on a voyage to answer the very same cosmic questions children ask their parents. Where do we come from? What is the Universe made of? Are we alone?
Garry was the only UK scientist elected by NASA to work on the Voyager mission.
As a result, Garry contributed to the 2020 book – Voyager, which is a unique guide to the most iconic, monumental and scientifically relevant mission to date.
Speaking topics include:
Climate Change
Telecommunications revolution
Space Exploration
Living with Uncertainty – the Mobile Revolution & 21st-century challenge
Business & Technology – Lessons for a successful relationship from space exploration.
Managing Technology – Lessons for successful Governance?
Motivation – Lessons from the space programme.
Voyager Mission – An inside view of the mission to the outer planets
The Earth's Climate is Changing – What are you going to do?
Exploration of the Solar System – Is there life out there?
Through an extensive business network, Garry Hunt assists companies with their business networking, facilities roundtable dinner discussions and business events.
Garry Hunt is an experienced communicator, a regular broadcaster on radio & TV and keynote speaker.  In 1990 he gave the Jubilee lecture of the British Computer Society. In 1992 received an ICL Worldwide Services award for his consultancy activities.
Garry's career has involved more than 30 years of working and with international organisations, academic institutions and governments and especially living in the US. He has extensive experience of US and advises staff members moving to the US of the issues associated with working with US organisations.
Also, he advises staff members coming to the UK of the working practices in this country. Through his network, Garry assists overseas companies in developing their activities and UK companies with their businesses in the US and Asia.
Garry Hunt has received four awards from NASA, the Gaskell Medal from the Royal Meteorological Society, awards from ITN news for his media work and from ICL for his business activities. He continues to appear on TV & writes regularly for business, space science and astronomy publications.