Barbara Cassani CBE is best known for founding the low cost airline Go, and for spearheading the London 2012 Olympic Bid.
CAN'T FIND WHO
YOU'RE LOOKING FOR?
Born in Boston, Barbara studied at Mount Holyoke College, graduating magna cum laude with a BA (Hons) in international relations, she then earned a master's degree, again in international relations, from Princeton Woodrow Wilson School of Public and International Affairs.
Upon graduation, Barbara worked as a management consultant for Coopers & Lybrand before moving to work in the U.S. operation of British Airways, where she worked in sales, marketing, and on the team that integrated Dan-Air into BA's business.
In 1997, facing increasing competition from budget airlines Ryanair and easyJet, British Airways launched it's own budget offering. Chief Executive Bob Ayling selected Cassani for the task, giving her only £25 million in seed capital. The company began operations in 1998 and reached profitability two years later. In 2001 Cassani led a management buyout of the company backed by 3i, and became its first Chief Executive.
In 2002, Barbara Cassani won the Veuve Clicquot Businesswoman of the Year Award and was voted UK Entrepreneur of the Year among the readers of the Daily Telegraph and Sunday Telegraph.
Later in 2002, Go was bought by rival easyJet.
In June 2003, Barbara was appointed to chair London's bid to host the 2012 Summer Olympics. Barbara led the bid through the first phase of the two-stage bidding process.
During her tenure, the newly formed bid corporation grew to a staff of 80. Her team created the bid's master plan, which detailed where events would be held, what infrastructure would be built, and provided an overall budget projection for the games. This was submitted to the International Olympic Committee in the spring of 2004, and on the strength of it, London was selected as one of the five candidate cities. In May 2004 Cassani announced she was stepping down as chairman in favour of Olympic gold medalist and politician Lord Coe.
Cassani stayed on with the bid, serving under Coe as Vice Chairman, responsible for technical aspects of the bid. She continued to serve on the board and on July 6th 2005 the IOC awarded the XXXth Olympiad to London.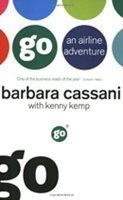 Barbara Cassani has long enjoyed participating in sport. She owns two three day eventing horses that are competing in the UK at the highest levels. She competes herself at a lower level and supports sporting endeavor across the board.
In 2003 she released a best selling book, Go – An Airline Adventure that recalled her experiences from the start-up of the airline through to the reluctant sale to easyJet.  The book was voted the WH Smith 'Best Business Book' by readers in 2004.
Barbara Cassani is in demand around the world as a lively and engaging speaker on leadership and start-ups – drawing upon her experiences in the airline sector and from the Olympic bid.