Anthony Holmes is an international corporate turnaround specialist and transitional leadership expert.
CAN'T FIND WHAT
YOU'RE LOOKING FOR?
His multi-industry experience and insight into the psychology management under pressure has ensured an impressive track record of turnarounds and restructuring public and private companies.
Holmes has led the revival of seven companies over 15 years in several industries including utilities (TXU Europe), construction (Dew Group Plc), food (Anchor Foods Ltd), and telecoms (Global Crossing UK). His 30-year international business career spans strategic consultancy, investment banking and senior corporate management in a diverse range of industries.
Between 2010 and 2014 Anthony was Chairman at British Consulting. He co-launched the Institute for Infrastructure Studies in 2013 – a not-for-profit think tank focusing exclusively on developing and disseminating a body of practical knowledge to guide the appraisal and completion of large complex infrastructure programmes.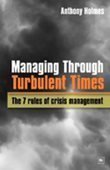 His business books 'A Time to Lead, A Time to Manage' and 'Managing Through Turbulent Times' (Harriman, Spring 2009) identify the significant differences between leadership and management and explore what kind of leadership is required in crisis.
A Time to Lead, A Time to Manage argues that leadership cannot be taught or manufactured and that the companies that equip themselves with specialist leadership to overcome instability in turbulent times perform better.
Anthony holds a BA Economics from Sheffield Uni and has completed an MSC in Political Philosophy at LSE.
Keynote Speaker:
Surviving Recession:
Surviving recession when there are almost no senior survivors (still leading companies) from the last recession to learn from. Holmes provides practical solutions for guiding large and small businesses through the current crisis and towards green shoots of recovery.
Transitional Times Require Transitional Leaders:
Why leadership style and approach in turbulent times MUST differ from 'management' in stable times. Turbulent times require counter intuitive processes. Managers tend to address instability instinctively by imposing more and tougher controls, which is like increasing the scaffolding around an unsteady building to make it robust. Leaders recognise that businesses need the flexibility to adapt.
Why Management and Leadership are Completely Different Animals:
Comparisons between business, religion, politics and the military.