We are just 3 months away from hosting the 8th Rugby World Cup.
The game of rugby is thought to have originated in 1823 with William Webb Ellis being credited with the innovation of running whilst holding the ball at Rugby School.
Over 150 years later, the first Rugby World Cup took place jointly hosted by Australia and New Zealand in 1987.
The first match of the tournament was Australia vs England with the squads featuring rugby legends such as David Campese, Rory Underwood, Brian Moore and Nigel Redman.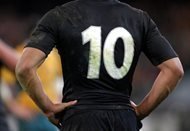 The 1987 Rugby World Cup was eventually won by the favourites and co-hosts – New Zealand aka The All Blacks.
All Blacks hero Sean Fitzpatrick was a member of this winning squad, and went on to be the most-capped All Black of all-time.
Over the past 7 World Cups, New Zealand, South Africa and Australia have all won the cup twice, with the England squad winning once in 2003.
The mighty England squad featured a huge pool of talent, who all had an immense will to win. The team were focussed on bringing the Webb Ellis Cup back to its homeland.
Under the leadership of Sir Clive Woodward, England beat long-time rivals Australia 20-17.
Over the past 12 years, many members of the 2003 England World Cup Winning squad have carved out thriving broadcasting, after dinner speaking and motivational speaking careers for themselves.
Past players from this legendary squad who are available as anecdotal after-dinner speakers and/or motivational speakers include:
Many of the above can provide insight on how to create and maintain a high-performance team, how to deal with and approach change, the key to great leadership and how to go from good to great.
Entertaining speeches and Q&A session are also second nature to many of the above, where they will offer entertaining stories from the world of a professional rugby player.
Aside from the 2003 England World Cup Squad, we work with a number of rugby legends from South Africa, New Zealand, Australia, England, Wales, Ireland and Scotland available for speeches and media opportunities including:
If you have any queries or questions about our range of rugby speakers, please get in touch here.
The 2015 Rugby World Cup Kicks-Off on Friday 18th September 2015 with England v Fiji
The full fixtures list can be viewed here.