Brian Moore is a former England Rugby Player, Broadcaster and Entertaining After-Dinner Speaker.
We're here to help,

so please contact us with any questions...
Born in Birmingham, January 1962, Brian was educated at Nottingham University where he studied law and subsequently became a qualified solicitor.
During his rugby career, Moore played for Harlequins, Nottingham, Leeds and represented England.
In the early 1990s Brian, or 'Pitbull', as he was better known to many, was the archetypal front-row rugby player.
His crooked front teeth, described by England colleague Paul Rendall as "the kind you get from a DIY shop and hammer in yourself", purveyed a "don't mess with me" image that left many an opponent quaking in his boots.
Notorious on the pitch for winding up opposition forwards in teh scrum (the French in particular), Brian Moore was always willing to throw himself whole-heartedly into the thick of the action.
He won a total of 64 caps between 1987 and 1995. He played in three Rugby World Cups including the World Cup final against Australia at Twickenham in 1991. He was member of the England side that won Grand Slams in 1991, 1992 and 1995, and was a Test series winner with the Lions in Australia 1989.
In 1990 he was voted Rugby World Player of the Year.
He was a mainstay of the England team during his International career, missing just 4 of 66 Internationals from his debut against Scotland in '87 until his final game versus France in '95.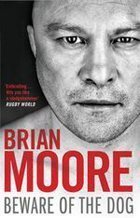 Brian 'Pitbull' Moore belongs to the band of rugby players who are almost as well-known by their nicknames as by their given names, but the true origins of the hooker's nickname are somewhat unclear.
Brian recalls "My nickname came from Wade Dooley, (former England lock), I don't know why he came up with it particularly – some said it was a remarkable resemblance to the horrible beasts. Others said it was because of an attitude of never wanting to let go of something once you'd got hold of it!"
Since retiring, Brian Moore has been a regular media commentator and pundit on the sport, and is admired for his forthright views and style. Brian remains as one of the UK's leading rugby after-dinner speakers.